Future oriented with values
What distinguishes Walter Henrich as an internationally active supplier?

What is our main focus in terms of daily activities and engagement?

What drives us?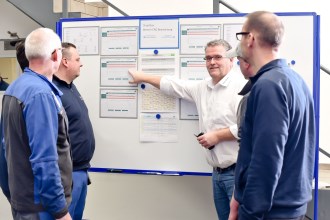 Our company values are the jointly lived guidelines for this
Our customer's satisfaction is our highest priority. Therefore, we closely monitor our customers' demands and timely identify their future oriented needs. We strive to efficiently meet these needs by providing long lasting solutions through the help of our competent employees.
In order to position ourself optimally in the competitve markets and efficiently fulfil our volatile customer demands Walter Henrich invests in high end Technology that supports us in producing components with high quality and according to the customer's requirements..
Innovation is the key to business success and achieving competitive advantage. That is why our quality and development teams work in a cooperative spirit to come up with innovations that improve our internal operation systems to be efficient and effective.
Walter Henrich is not left behind in making sure that our earth is protected and resources are reserved for our next generations. For that reason, we are committed to the sustainable use of resources and we abide with the international environmental management standards. We are part of God's creation and we should be responsible for preserving all that was created by Him.
We focus on having a long lasting good business partnership with our investors, customers, suppliers and service provider.